Tonight, the SMU student chapter of ASME hosted Honeywell Staff Flight Test Engineer Ian C. Bell, who spoke on Honeywell's flight testbed for aircraft engines and other aviation technologies. The event was orchestrated and sponsored by the ASME Puget Sound Section.
Mr. Bell began by describing his career as a flight test engineer, beginning at Pratt & Whitney and continuing at Honeywell. He explained the importance of flying testbeds: they allow the safe testing of engines and other aviation technologies—in their operational environment. It's virtually impossible to replicate these conditions on the ground, so they take an existing aircraft and turn it into a flying laboratory!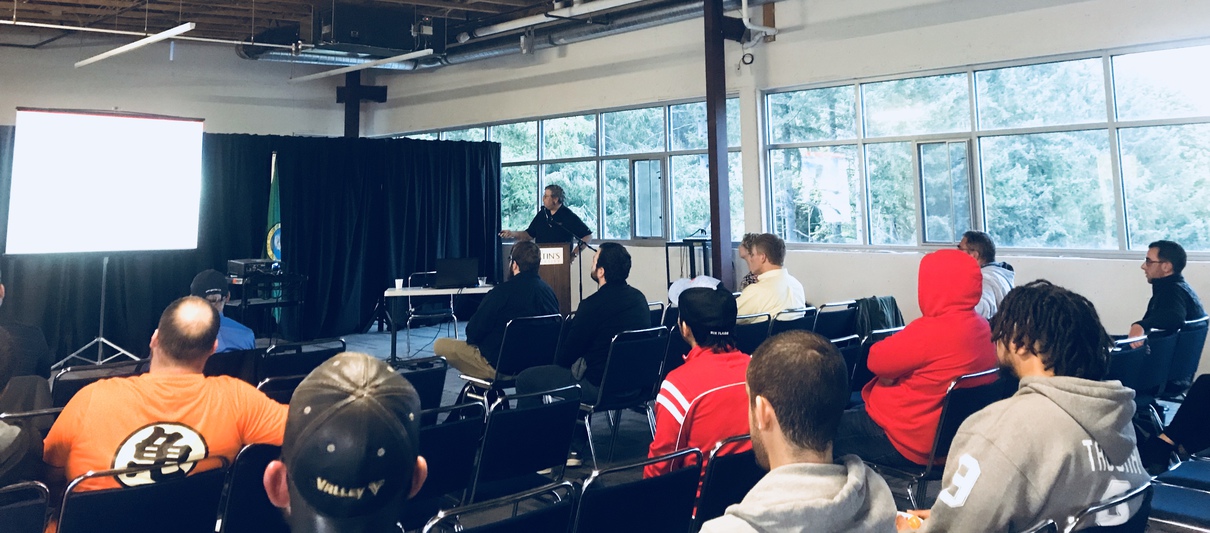 Since 2008, Honeywell's flying testbed has been a Boeing 757 with a custom-fitted nacelle protruding from its side for testing engines. The nacelle is connected to the fuselage via a custom pylon that also passes-through cables, hoses, and instrumentation. The pylon was created by the Olympia company Soloy Aviation Solutions.
The fuselage required structural reinforcement, but passing cables and hoses through irregularly sized and shaped holes in the skin of the aircraft introduces complex fatigue failure modes. Instead, they chose to install standard window-sized plates with their own custom hole patterns that could be easily updated—just one of several ingenious aspects of their design.
It was a great presentation, well-received. The professional and student members in attendance were engaged throughout and afterward, the conversation continuing so long that Mr. Bell and his host Scott Carlson—Engineering Manager at Soloy and ASME Puget Sound Section Treasurer—were (we hope only) nearly late for their dinner reservations!